The Instagram Story feature is one of the social media platform's best features. While you can post your favourite pictures to your Instagram Story, adding your best soundtrack makes it better. It is very easy to add songs to your Instagram Story. This blog will show you how to add songs to your Instagram Stories in a few steps.
NOTE: If you use Instagram regularly, especially those who post and use the app to chat with their friends and family, automating your activities will substantially improve your experience, save time, and boost your Instagram growth.
With Instagram Growth Tools like IGSUMO, you can automate what you do on Instagram and increase your likes, comments, followers, and conversions if you have a business account.
IGSUMO helps you automate your chats with an Instagram auto poster to schedule posts directly to your Instagram feed and Stories. It has an intelligent auto reply bot that can chat with your followers and other Instagram.
There is also a hashtag generator tool to generate the best hashtags for your Instagram posts, while the auto reply bot can also delete offensive and abusive comments from your page, among many other amazing features.
These automation tools help you accomplish a lot in little time, boost the experience of your customers and followers, and increases your Instagram page growth in record time.
Let us take a look at the different ways you can add a song to your Instagram Story.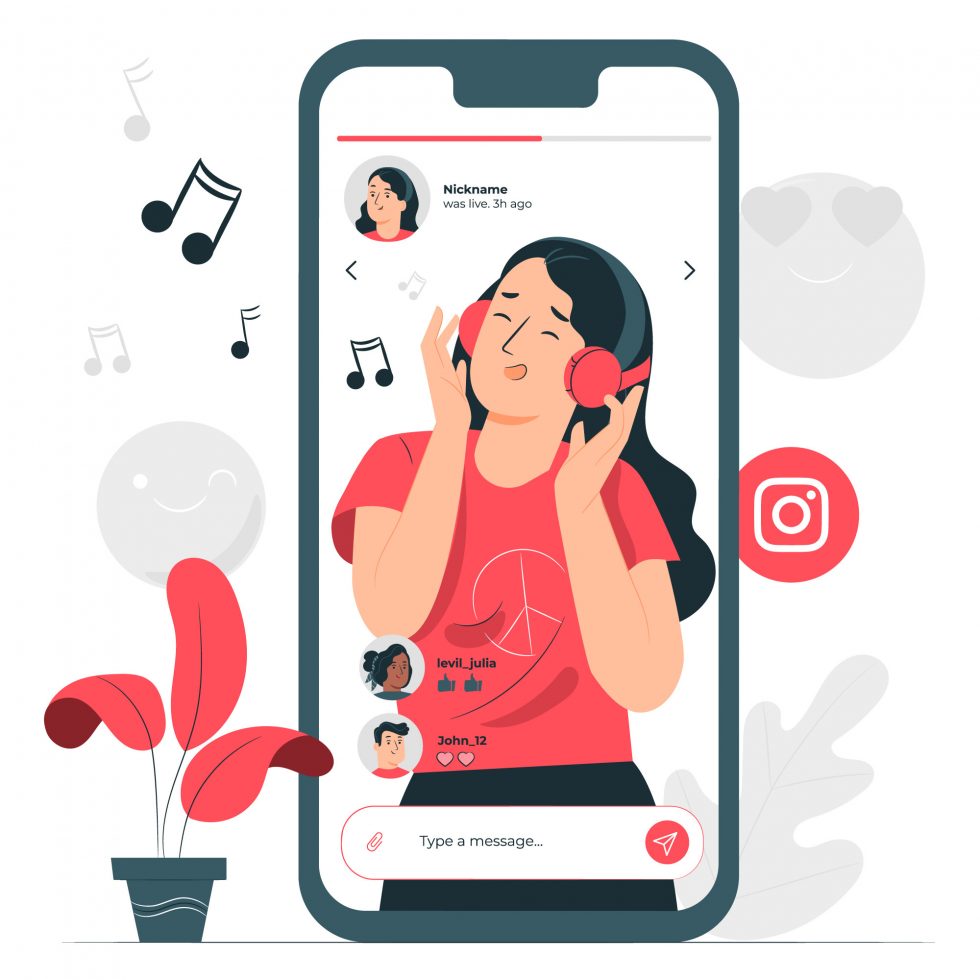 How To Add Music To Your Instagram Story
Although you cannot add music directly to your Instagram posts, you can add music to your Instagram Stories and Reels. If you add music to a video on your Story and download it, it will not have the song you added.
If you want to add a song to a video you want to post on Instagram, you have to edit the video with some third-party apps.
Now, let's begin
Steps To Add Songs to Instagram Story
The steps to adding songs to your Instagram story is the same whether you have an iPhone or Android device. But ensure you have the latest Instagram version.
Step 1: Open the Instagram app and go to your Story. You can tap your profile picture at the top-left corner of the screen beside other Instagram stories. You can also swipe left or tap the + icon at the top-right corner of your screen and click 'Story' at the bottom of the page.
Step 2: Next, take a photo or add one from your camera roll by clicking the small square at the bottom left of your screen.
Step 3: Next, tap the Photo Sticker icon at the top of the screen and choose the 'Music' sticker. You can also use the sticker option if you want to add multiple photos to one Instagram Story.
Step 4: Find the music you like and tap on it to add the song to your Instagram story.
Step 5: If you have a favourite part of the song, you can edit the Story to play that part only. This can be done by moving the slider below the page or sliding the lyrics if lyrics are available for the song. Note: You can only play the song for 15 seconds.
Step 6: Tap 'Done' to complete the operation. If you can see the lyrics, it is possible to change the colour fonts and perform other actions with the song. You can also move the lyrics anywhere you want on the screen.
Step 7: The final step to add a song to your Instagram Story is to tap 'Your Story' at the bottom left corner to post to Instagram.
REMEMBER: You may choose not to click the 'Photo Sticker' option at the top of the screen and tap the music icon instead. This also works.
If you are on this page, you must enjoy using Instagram – we do too. There is so much to do on Instagram, and this is why we have one of the best Instagram automation tools – IGSUMO.
It can automate virtually everything you do on Instagram without errors or lags. It will also help you generate the best hashtags so that you can appear more often on the Instagram Explore Page. You can get started on IGSUMO for free, integrate multiple accounts and enjoy Instagram growth like never before for no cost. Start here.