Free Sign UP One-Time-OFFER!
No Credit Card Required
Awesome Features
Simplified Instagram automation bot with powerful features for photographers. Take control of your social media marketing with easy-to-use Instagram automation tools.

Image/Video Posting
Schedule image & video posts for now or later. Edit with live image editor.
Comment On Instagram Posts
Design auto comment templates. Make random & periodic comments.

Comment Reply
Design auto reply templates, delete offensive comments and provide automated responses.

Hash Tag Search
Automatically search hashtag with keywords, hashtag generator, & see comments made, etc.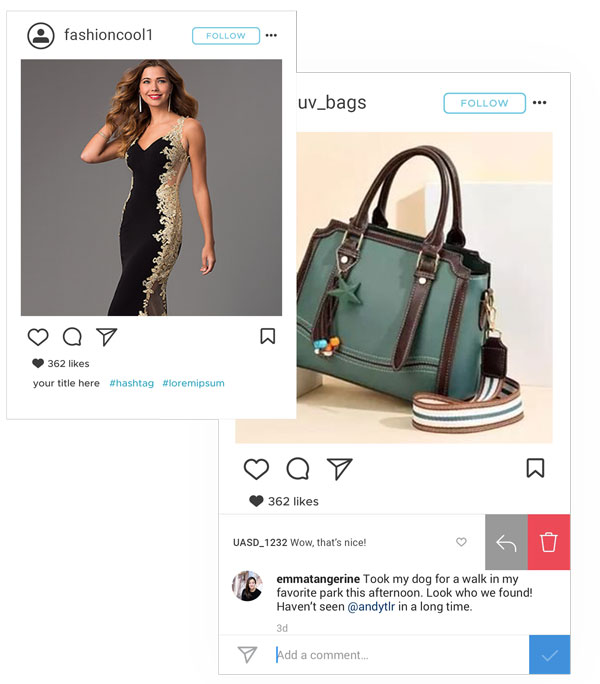 How Does Our Instagram Automation Bot Work?
Connect multiple Instagram accounts and streamline your Instagram marketing.
Connect Instagram account
Get started for free and connect your Instagram account in just a few clicks. Clicking the  'Login with Facebook' button will prompt you to allow access to import your Instagram account. You're ready to go!
Create Auto Posting Campaign
Automate your Instagram posts with the simple Instagram bot. Schedule posts to go live on your Instagram feed later or make instant posts. You can upload the image or video you wish to post, preview it on the user-friendly dashboard using the full-featured image editor. Write and edit captions easily. Our Instagram automation bot also lets you set scheduled periodic posts to make the same Instagram posts periodically.
Create Comment On Post
Another amazing Instagram growth feature is the ability to automate your Instagram comments. Our Instagram bot allows you to comment on your posts once or multiple times directly from the dashboard. You can also save comments as a template to be used later on. The periodic posting feature allows you to comment randomly or take content from templates frequently.
Create Comment Reply
Reply automatically to comments under your Instagram posts privately via Instagram direct messages or publicly under the comment. Our auto reply feature allows you to tag and mention the user. This Instagram automation tool has an advanced keyword recognition system that allows it to delete inappropriate comments while you can use your saved replies as template for future automated responses.
Instagram Automation Tool Designed To Grow Your Audience
We have a tool made to increase your social media engagement, facilitate faster Instagram growth, connect with Instagram users anywhere, and spend less time doing it.
Training
Our simplified videos provide easy step by step tutorial to get the most out of IG Sumo Instagram marketing tool. Very powerful tool that boosts Instagram marketing.
User-Friendly Dashboard
Smooth connection with your Instagram followers via a user-friendly dashboard. All your Instagram posts, Instagram interactions, Direct Messages, Instagram accounts, Auto Reply Campaigns, Auto Posting, and Auto Commenting tabs are easy to find.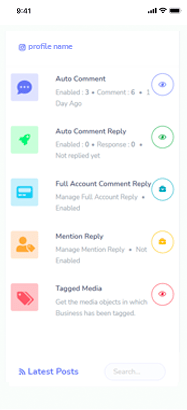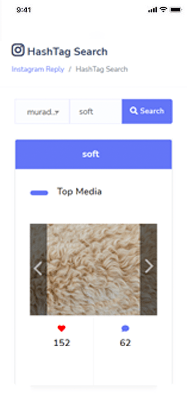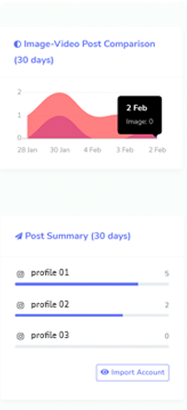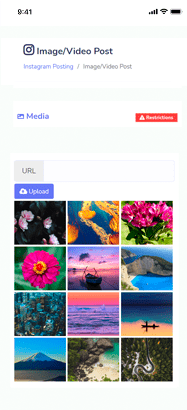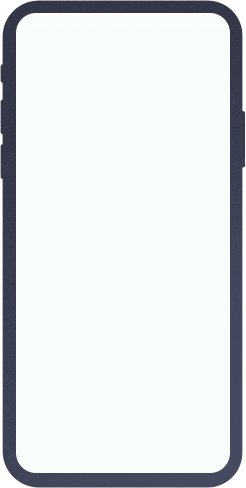 Save big with Our New Year OFFER!
DISCOUNT UP TO 60% OFF
Why IGSUMO's Instagram Automation Tools Are Crucial To Your Photography Business

You can have it all with your social media marketing and we are here to give you – unlimited Instagram growth and better ROI.
Grow Your Followers Through Instant Replies
Managing Instagram inbox and direct messages has been a huge headache for photographers.
Use our auto-reply tool to delight fans and customers. Encourage fan loyalty with smart automated comments. Responding swiftly can positively impact your long-term followers count.
Fast replies demonstrate to your followers that you are always accessible. This speeds up decision making, product sales, and client service even beyond work time.
Create Authentic Engagement
It will be impossible for you to sell your product or build a massive fan base if you don't get engagement.
How does IGSUMO help you get more likes and comments on Instagram?
With our powerful auto reply bot, you will get double as many comments as you normally get from your posts.
Streamlined responses to all of your Instagram messages, comments, and posts (works well for multiple accounts).
Increase organic interaction by sending bulk DMs and tagging users.
Filter your social media interactions and put the most important ones first.
Effortless conversion of new and current Instagram followers is made possible by quick and efficient interactions.
Integrate Multiple Instagram Accounts, Create Engaging Instagram Posts, and Get Better Value For your Photography Business
Want to increase your Instagram follower engagement and increase the sales of your items at the same time.
Check out the following ways that IGsumo can assist you:
Automate all of your Instagram posts with our tools with just a few clicks, and you'll see an increase in followers and engagement. There is no limit to the amount of optimization you can do.
It's easy to schedule Instagram posts with our Instagram scheduling tool.
Looking for a personal account manager? You can use IGsumo for this purpose. Manage various social media accounts and posts with ease. This, in turn, will increase your revenue.
Don't waste your time responding to comments, DMs, and other forms of engagement. You can respond to messages, comments, and schedule posts in real time with our automation tool.
Instagram Scheduling Tool
The most reliable Instagram management tool is IGsumo. It makes it easier to respond to your DMs and comments. As a result, your Instagram feed will see a spike in engagement.
To create trust and a relationship with your Instagram followers, there is no smarter tool than this.
Other Powerful Features
Instagram Scheduling Tool
The most reliable Instagram management tool is IGsumo. It makes it easier to respond to your DMs and comments. As a result, your Instagram feed will see a spike in engagement.
To create trust and a relationship with your Instagram followers, there is no smarter method than this.
Intelligent Tool for 24/7 Marketing
To build your Artist Instagram account, you must continually cultivate 'visibility' and 'accessibility' in your account. This can only work if you communicate with customers and followers round-the-clock. This will not only display your customer care proficiency but better your user experience.
Using IGsumo Auto Comments and Reply Tool on your Artist Instagram Page will enable your brand to remain 'online' 24/7.
This means you'll be able to communicate with your followers, customers, and clients all around the world and answer their questions and comments 24/7.
Schedule Posts for Different Time Zones
Your fans and Instagram followers might be spread out across time zones, so don't worry!
IGSumo allows you to schedule your posts in any time zone of your choice. Using our tool, you'll be able to keep in touch with your Instagram audience even when you aren't there.
Delete Inappropriate Instagram Comments
IGSUMO can be used to remove spam and abusive comments from your Instagram profile. Your page will be sanitized and kept in perfect shape for customers to view.
Instantly respond to your DMs
Don't make your customers wait! You'll be able to instantly respond to customer service and sales enquiries by using IGSumo.
Using this method will save your staff some time and allow you to respond to consumers more quickly. This will improve your customer experience and ensure that your most frequently asked questions are resolved promptly.
Auto Tagging Feature
Our auto commenter and auto reply tool can personalize customer interactions with auto tagging. Mention commenters' names and Instagram handles in your responses to personalize the interaction.
See Page Reports In One Place
Review your Instagram page for reports such as auto comments enabled, auto replies, posts scheduled, and many more essential facts that help you optimize the client experience.
Customize Auto Replies
Improve the quality of your business interactions with your clients by keeping in constant contact with them.
What Other Users Are Saying About Instagram Automation
Here are what people are saying about Instagram automation and why you should get started now.

Dona, K.
Freelancer On Upwork
"We use Instagram automation tools to respond to users and potential customers quickly. We can get them all the information they need without lifting a finger."

Nelson, T.
Social Media Director @PrimeoDigital
"What I love most about automating my Instagram tasks is the simplicity. The customization and UI is brilliant and scheduling Instagram posts in bulk makes my work easier and faster."

Dave, O.
Youtuber
"Instagram automation tools make it easy to auto comment and auto reply on Instagram. Responding to comments quickly has enormously improved our lead generation and increased our revenue!"
Latest From the Blog
Read our explanatory blogs on Instagram automation and Instagram marketing.
IGSUMO has several unique features that can help you yield amazing results with your Instagram...
read more