Free Sign UP One-Time-OFFER!
No Credit Card Required
Awesome Features
Simplified Instagram automation bot with powerful features for smart marketers. Take control of your social media marketing with easy-to-use Instagram automation tools.

Image/Video Posting
Schedule image & video posts for now or later. Edit with live image editor.
Comment On Instagram Posts
Design auto comment templates. Make random & periodic comments.

Comment Reply
Design auto reply templates, delete offensive comments and provide automated responses.

Hash Tag Search
Automatically search hashtag with keywords, hashtag generator, & see comments made, etc.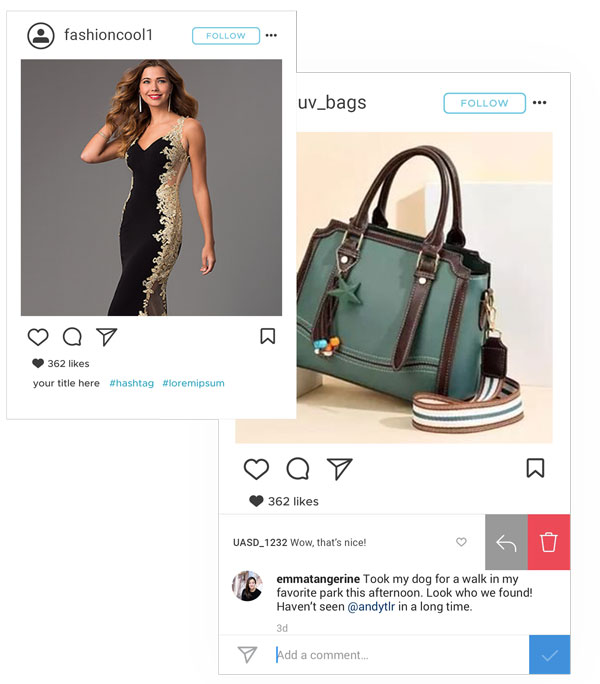 How Does Our Instagram Automation Bot Work?
Connect multiple Instagram accounts and streamline your Instagram marketing.
Connect Instagram account
Get started for free and connect your Instagram account in just a few clicks. Clicking the  'Login with Facebook' button will prompt you to allow access to import your Instagram account. You're ready to go!
Create Auto Posting Campaign
Automate your Instagram posts with the simple Instagram bot. Schedule posts to go live on your Instagram feed later or make instant posts. You can upload the image or video you wish to post, preview it on the user-friendly dashboard using the full-featured image editor. Write and edit captions easily. Our Instagram automation bot also lets you set scheduled periodic posts to make the same Instagram posts periodically.
Create Comment On Post
Another amazing Instagram growth feature is the ability to automate your Instagram comments. Our Instagram bot allows you to comment on your posts once or multiple times directly from the dashboard. You can also save comments as a template to be used later on. The periodic posting feature allows you to comment randomly or take content from templates frequently.
Create Comment Reply
Reply automatically to comments under your Instagram posts privately via Instagram direct messages or publicly under the comment. Our auto reply feature allows you to tag and mention the user. This Instagram automation tool has an advanced keyword recognition system that allows it to delete inappropriate comments while you can use your saved replies as template for future automated responses.
Instagram Automation Tool Designed To Grow Your Audience
We have a tool made to increase your social media engagement, facilitate faster Instagram growth, connect with Instagram users anywhere, and spend less time doing it.
Training
Our simplified videos provide easy step by step tutorial to get the most out of IG Sumo Instagram marketing tool. Very powerful tool that boosts Instagram marketing.
User-Friendly Dashboard
Smooth connection with your Instagram followers via a user-friendly dashboard. All your Instagram posts, Instagram interactions, Direct Messages, Instagram accounts, Auto Reply Campaigns, Auto Posting, and Auto Commenting tabs are easy to find.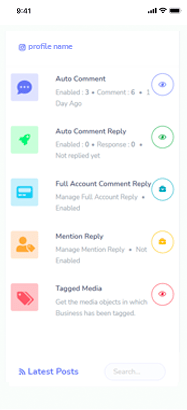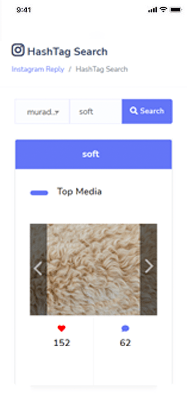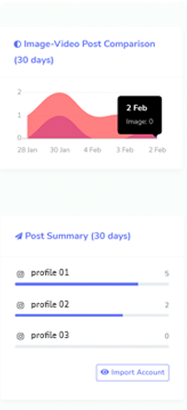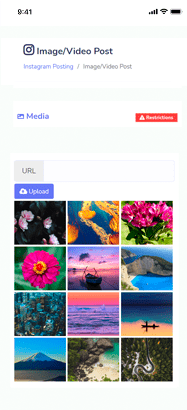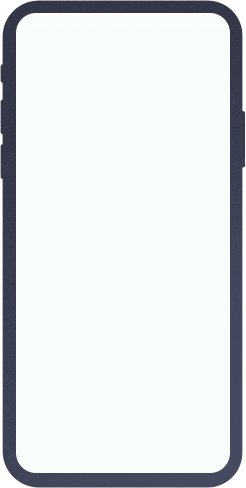 Why IGSUMO's Instagram Automation Tools Are Crucial To Your Instagram Marketing
You can have it all with your social media marketing and we are here to give you – unlimited Instagram growth and better ROI.
Grow Your Followers Through Instant Replies
Leverage our auto reply feature to create instant gratification for followers and prospects. Develop brand loyalty from fans with smart automatic comments. Responding quickly can directly affect how many followers you get in the long run.  Quick replies show your followers that you are always available and easy to reach.  This helps you solve problems faster, sell products quicker, and provide impeccable customer support even after your business hours.
Create Authentic Engagement
Automatically double all the comments you get under your posts with our Instagram auto reply bot.
Reply to all your Instagram direct messages, comments, posts on multiple Instagram accounts with IGSUMO.
Send bulk direct messages and tag each user like a natural interaction with our post automation tool. Filter your social media conversations and focus on the important ones.
Quick interaction will help you convert new followers and existing Instagram users faster.
Integrate Multiple Instagram Accounts, Create Engaging Instagram Posts, Get Better Value For Money
Connect multiple accounts and automate all your Instagram posts in few minutes without worrying about limits.
Experience seamless social media scheduling with our Instagram scheduling tool. More accounts and more posts help you generate increased revenue.
Our Instagram automation tool can function as a personalized account manager for each of the Instagram accounts you integrate.
It will save quality time that you may have used to automate Instagram posts and engage followers across all your brand accounts by automating comments and replies, helping you create scheduled posting, answering message requests, and many more.
Efficient Instagram Engagement Via Inbox
We have a trusted social media management tool. Our Instagram bot works efficiently in increasing the engagements for your posts by responding via DM or quick response in the comment section.
Responding to your followers is a great way to identify potential customers and move them through the sales funnel faster.
Boost Your Instagram Business Account With Intelligent Marketing Around The Clock!
Setting auto comments and auto replies on your Instagram business account makes your business appear online always.
Being available 24/7 to interact with customers shows commitment to customer service and user experience.
With IGSumo, you can engage your Instagram followers, prospects and existing customers regardless of the day and time.
Schedule Posts for Different Time Zones
Suppose you have a larger percentage of your fans and Instagram followers in a different time zone from yours, no worries!
IGSumo helps you schedule your posts to suit any time zone of your choice. This way, you can engage your followers and Instagram fans whenever they are online, even though you are not.
Reply to Your DMs Instantly
Don't keep prospects waiting! With IGSumo, you can automatically respond to sales and support inquiries immediately.
This saves your team some time and helps you serve customers with quick answers. You will improve customer experience and ensure Frequently Asked Questions are answered quickly.
Auto Tagging Feature
Our auto commenter and auto reply tools can personalize customer interaction with auto tagging. Mention commenters' names and Instagram handle in your responses to personalize the interaction.
See Page Reports In One Place
See your Instagram page reports such as auto comments enabled, auto replies, posts scheduled and many other vital statistics that help you improve customer experience. 
Customize Auto Replies
Use images and photos, emojis, videos, and many others in your auto comments and auto replies. Make customer interaction fun and engaging. Foster great relationships with your customers through interactive communication.
Respond To Comments Automatically Via Instagram DMs
Auto reply to user inquiries and sales questions via DM to save time and increase conversions. IGSumo helps you start the sales journey quickly and lead prospects through the sales funnel faster.
Boost Instagram Page Visibility 
Boost your brand reach across Instagram with our auto posting, auto comments and Instagram stories and auto mention tool!
Our different Instagram automation tools increase the reach of your brand accounts. IGSUMO helps you to schedule high quality content that can be posted across all the pages that you manage.
This helps you to reach as many users as possible and connect with your target audience seamlessly.
Instagram Automation To Increase Productivity
Automate your Instagram marketing with our auto commenter, auto responder and social posting features. Provide your team with more room to focus on other aspects of your business and increase productivity. IGSumo can automate without supervision, allowing you to focus on other complex tasks.
Delete Inappropriate Instagram Comments 
IGSUMO can delete offensive and abusive comments from your Instagram page immediately after they are posted. Keep your page clean from trolls and interesting for prospective customers.
You Remain In Complete Control
We have one of the best Instagram automation services that put you in control. Our tool can serve as a dedicated account manager, but in the end, you remain in control of this social media tool.
You can edit, modify, and remove certain functionalities based on your preference and customer demands.
Best Instagram Automation Service
IGSUMO is one of the best Instagram automation tools available today. Our Instgaram automation tool is built with years of research into what businesses and brands need for their social media marketing.
It performs all the required services that is required to give your customers the best Instagram automation service they have had. Some of the services that people require from an Instagram automation tool like IGSUMO include:
Automates time consuming tasks like helping you to schedule posts.
Facilitates smooth connection with your target audience wherever they are through the use of time zones for each location.
Get the most out of Instagram stories and automated messages
Integrate multiple social media accounts, especially Instagram
Engage followers in real-time, among many other valuable functions.
Instagram Scheduling Tool
Directly schedule your product posts in advance and save your team hundreds of working hours. Automate as many posts as possible in bulk all at once. Direct Instagram publishing to all your business pages. Our Instagram auto posting tool can make different posts, including photos, videos, URL links, CTA posts, among many others.
Drag and Drop Content Planner
IGSumo has a user-friendly interface that allows you to create and schedule Instagram posts using a drag-and-drop visual planner. Organize photos, videos, text, and content in advance, and then preview what it will look like to visitors who land on your Instagram profile.
Share Your Content Across All Platforms
Connect with new and existing customers by sharing your content on all social media platforms, not just Instagram. Integrate with other smart tools to advance your Instagram marketing strategy.
Gain Instagram Followers Through Instant Replies
Leverage our auto reply feature to create instant gratification for followers and prospects. Develop brand loyalty from fans with smart automatic comments and increase follower count automatically with genuine engagement.
Quick replies show your followers that you are always available and easy to reach. Regardless of the time a user sends your brand page a message, you will be able to quickly respond through auto replies.
This helps you solve problems faster, sell products quicker, and provide impeccable customer support even after your business hours.
Responding quickly can also directly affect how many followers you get in the long run. Word spreads and soon, our Instagram growth tool will get you real Instagram followers without the need to subscribe to services that may increase your follower count with fake followers.
Get Started For Free
Experience all of IGSumo's Instagram marketing and automation features for free with no credit card required.
Increase your conversions, boost CRM and engage customers in interactive conversations with no charge for a limited time. Enjoy valuable premium options for both small, medium-scale, and large businesses.
Manage as many Instagram accounts as you want and leverage all the features in growing your Instagram at no cost for a limited period.
Safe Instagram Bot
Our Instagram bot is safe to use. It will not breach any of Instagram's terms and conditions. Instagram has allowed third party software access to their API. This allows us to deliver the best Instagram automation tools.
Mobile Friendly Instagram Growth Service
Our Instagram bot has been optimized and is fully compatible with all mobile devices. You may access and manage your activity from anywhere at any time.
Connect your business or personal account and continue scheduling posts, automating comments and replies, and collaborating seamlessly on the go.
Automate What Matters Most
IGSUMO allows you to automate what is important to your social media strategies. Automate comments, Instagram DMs, comment replies, deleting inappropriate comments off your page, and other impressive functionalities.
Easy-to-Use Social Media Automation Tools
You can use IGSUMO directly from the web on a variety of browsers. You don't have to download or install any app or software to enjoy the best Instagram automation tools on offer from us.
We have also made it easy with training tutorials that guide you on how to automate your Instagram page while you can get started in just a few steps.
Why IGSumo's Instagram Automation Tools?
Why IGSumo's Instagram Automation Tools?
Instagram represents a fantastic opportunity for modern marketers, B2C and D2C brands, content creators and Instagram influencers to market their products and services.
With Instagram automation tools like IGSumo, you can have more meaningful engagements with your fans and followers. Our Instagram automation tool is designed with smart marketers like you in mind. Leverage our robust lists of features to take your Instagram marketing strategy to the next level.
Our auto commenter, auto reply Instagram bots, and auto posting Instagram automation tools provide a complete solution to some of the biggest marketing gaps businesses face on social media platforms.
With many comments under your posts and several DMs going unread, you could miss enormous opportunities to convert Instagram users and followers to customers.
As Instagram now allows third-party software to integrate with their API, sophisticated Instagram marketing tools are being developed to make marketing easier. Some of these tools are already here.
IGSumo can streamline your marketing strategy, customer engagement, and content marketing. With several features in place, you can increase conversions, boost Instagram page reach, have meaningful interactions with your users and grow your business page in record time.
Auto Commenter Instagram Automation Tools
IGSUMO's auto commenter Instagram bots help you to comment automatically under your Instagram page's posts.
Make the first comment and make in depth captions of your posts via the comments section.
Encourage users to comment under your Instagram posts by commenting first with IGSumo's Instagram auto commenter feature.
Create Customized Posts for a Target Audience
With our Instagram automation tool, you can create location-specific posts. Schedule posts to go live in the time zone that matches your target audience's location.
More Followers From Instagram Post
Making organic posts is an easy way to get free Instagram followers without making too much investment in free followers services.
Our Social Media Tool Is Instagram-Approved
IGSumo drives Instagram engagement and growth through auto comments, auto likes, auto comment replies, and auto posting automation for B2C brands, content creators, and smart marketers.
Best Instagram Automation Service To Increase Productivity
Automate your Instagram marketing with our auto commenter, auto responder and social posting features.
Provide your team with more room to focus on other aspects of your business and increase productivity.
IGSumo's Instagram automation tool can automate your online marketing without supervision, allowing you to focus on other complex tasks.
Frequently Asked Questions About Instagram Bots, Instagram Automation, Best Instagram Growth Service And IGSUMO
Does IGSUMO Offer Any Free Service?
Yes. You can use our Instagram automation tool to automate high quality posts, gain followers with authentic engagement, manage comments and save time for free.
This means you can enjoy all the amazing features our automation service offers without paying a dime – no credit card required.
What happens after I sign up with IGSUMO?
You will gain access to all the Instagram automation tools for your social media marketing. You can start scheduling posts to your Instagram feed, send automated messages, and automating time consuming tasks immediately.
Can I cancel my IGSUMO account at any time?
Yes, you can cancel your account whenever you want via the drag and drop dashboard.
But with so many amazing features for you and possibly the best Instagram automation service around, why would you want to do that though? 
Will IGSUMO work for my industry?
Yes, it will! And it will work effectively too. The type of business you have does not matter.
As long as you have an Instagram account and their users who are interested in your services, our Instagram growth tool will work for you.
What can IGSUMO help me accomplish?
IGSUMO helps you automate many Instagram tasks. This automation service provides solution to some of the biggest problems faced by brands on social networks.
The Instagram automation tool can boost engagement on your page by doubling all the comments you get via auto replies.
It can also get you more engagement from the DM by replying to comments privately. IGSUMO helps you grow your Instagram profile through instant replies and auto comments.
You can also schedule Instagram posts to go live immediately or at a later date and time. Increased activity will help you get active followers so that you experience good account growth in record time. This among many other features is what IGSUMO offers your brand.
I'm a newbie on Instagram. Which programs and tools should I use?
Good news: with automation tools like IGSUMO, anybody can become an Instagram pro! You can automate several processes and increase productivity.
Does Using An Instagram Post Scheduler Affect My Reach?
No, it doesn't. As long as you are using an Instagram-approved Automation Tool like IGSUMO, you have no problems regarding your reach.
In fact, with several other features like auto replying and auto commenting, you are more likely to experience increased reach.
Does Instagram Reduce Reach For Business Accounts?
Having a business account does not impact your engagement and reach. However, some people have noticed a decrease in their organic reach after running ads.
If you continue putting out high-quality content that engages your content and use automation tools like IGSUMO to schedule your posts, respond to users quickly, you'll get increased growth on Instagramregardless of the account type.
Why Automate On Instagram?
Instagram is an effective social media platform for your online marketing.
With over 1 billion monthly active users, Instagram allows you to post content, increase brand reach, conduct ad campaigns, grow your influence, interact with relevant followers, gain customers' trust, and eventually increase your revenue.
It does not matter if you are a business, agency, or individual, Instagram is an integral part of gaining a good social media presence.
If you use Instagram as a major marketing tool, you are more likely to get a lot of interactions from prospective and existing customers.
This means you have to automate most of your processes so as to cater for the demands of your customers.
You need to keep them happy and assure them you are always available to interact and lead them seamlessly through the sales funnel.
Save big with Our New Year OFFER!
DISCOUNT UP TO 60% OFF
What Other Users Are Saying About Instagram Automation
Here are what people are saying about Instagram automation and why you should get started now.

Dona, K.
Freelancer On Upwork
"We use Instagram automation tools to respond to users and potential customers quickly. We can get them all the information they need without lifting a finger."

Nelson, T.
Social Media Director @PrimeoDigital
"What I love most about automating my Instagram tasks is the simplicity. The customization and UI is brilliant and scheduling Instagram posts in bulk makes my work easier and faster."

Dave, O.
Youtuber
"Instagram automation tools make it easy to auto comment and auto reply on Instagram. Responding to comments quickly has enormously improved our lead generation and increased our revenue!"
Latest From the Blog
Read our explanatory blogs on Instagram automation and Instagram marketing.
IGSUMO has several unique features that can help you yield amazing results with your Instagram...
read more